Sacred Feather Necklace - custom - made to order.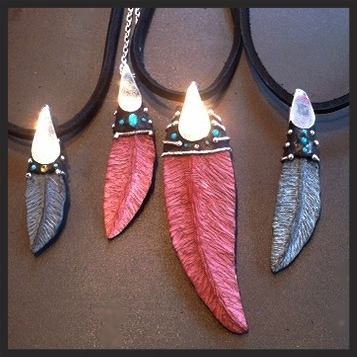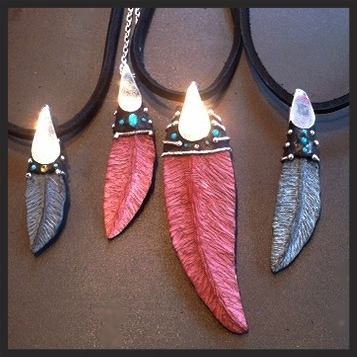 Sacred Feather Necklace - custom - made to order.
EVERY FEATHER IS DIFFERENT. PLEASE CONTACT US FOR PHOTOS OF WHAT WE CURRENTLY HAVE IN STOCK. We tend to send photos of the feathers before they strung on leather or chain. You choose which you like, whether you want stones set into the setting of the feather, the length, etc. This piece is a custom-made-to-order-labor-of-love item.
Prices start from 195- for the small 2" ones and go to 850 for large 4 & 1/2" ones. I kept a price list up for reference. (But please know if you place the order, we will be sending you photos - so that you may choose which feather is yours)
Stone feathers are hand-knaqpped by Guardian Wolf (Cherokee; Hiltons, VA), stone carver of sacred & ceremonial objects. Settings custom fit by Shana Lee.
Stone Colors:
-Catlinite (Red): Sacred & rare (only 2 mines left in the USA). May only by hand mined by card carrying Native Americans.
-Steatite (Black): Sacred pipe stone of the Eastern Bands of the Natives
Feathers range in length from 2" - 4.5". Available on sterling silver chain or adjustable leather chord.